Should Roofs in Maryland, Virginia, and DC Have an Ice and Water Shield?
A roof is your home's first line of defense from the elements. Wind, rain, snow, and ice can take a toll on a building, either over time or during a particularly bad storm. Homeowners must be confident that their roofs can withstand whatever the weather in the Maryland, Virginia, and DC area throws at them. An ice and water shield should be a vital part of that defense.
If you live in the DMV and are replacing or considering replacing your roof, you already realize that your home is in need of a vital upgrade. Your home is an investment and a sanctuary; an ice and water shield provides a means to improve both.
Get an estimate on a new roof that includes an ice and water shield today from BRAX Roofing!
Ice and Water Shields Explained
A roofing system is more than just the shingles. All of the components and materials work together to provide maximum protection for your home. An ice and water shield is an underlayment — a layer of material placed on the top of the house before shingles are installed. Traditionally, a felt layer is applied between the house and the shingles, and it performs adequately in preventing water from coming into contact with the wood underneath it. However, felt isn't perfect: Small gaps can form where the nail enters the material. Water can seep into these gaps, down the nail, and into your home; this water can freeze and unfreeze over time; and, well, you can see where all this is going: a roof that leaks.
An ice and water shield, which is made of a rubberized asphalt mixture, repels water better. First, because it uses an adhesive, water won't seep through where the layers overlap. Second, and perhaps more importantly, when nails are pounded into the membrane, a sort of gasket forms, automatically sealing the area around the nails.
An ice and water shield comes in rolls and is easy for contractors to apply, especially to traditional problem areas such as skylights and dormers. Often, a felt layer is then applied, offering even more protection from the elements.
The DMV Winter & Your Home's Roof
The winter of Maryland, Virginia, and DC doesn't conform to a traditional wintry season. We can get snow and bitter cold one week and then have it all melt the next week as highs jump into the 50s. This back-and-forth takes its toll on a roof. Snow can accumulate, then start melting, and then freeze again. If water is seeping underneath your shingles and down the nails, then freezing, your roof can easily be damaged during the one season of the year you most need it to perform.
Of course, all DMV seasons can play havoc on your roof. Wind and thunderstorms can drive rain sideways underneath the shingles. An ice and water shield is designed to protect your home all year. The weather may be unpredictable, but your roof shouldn't be.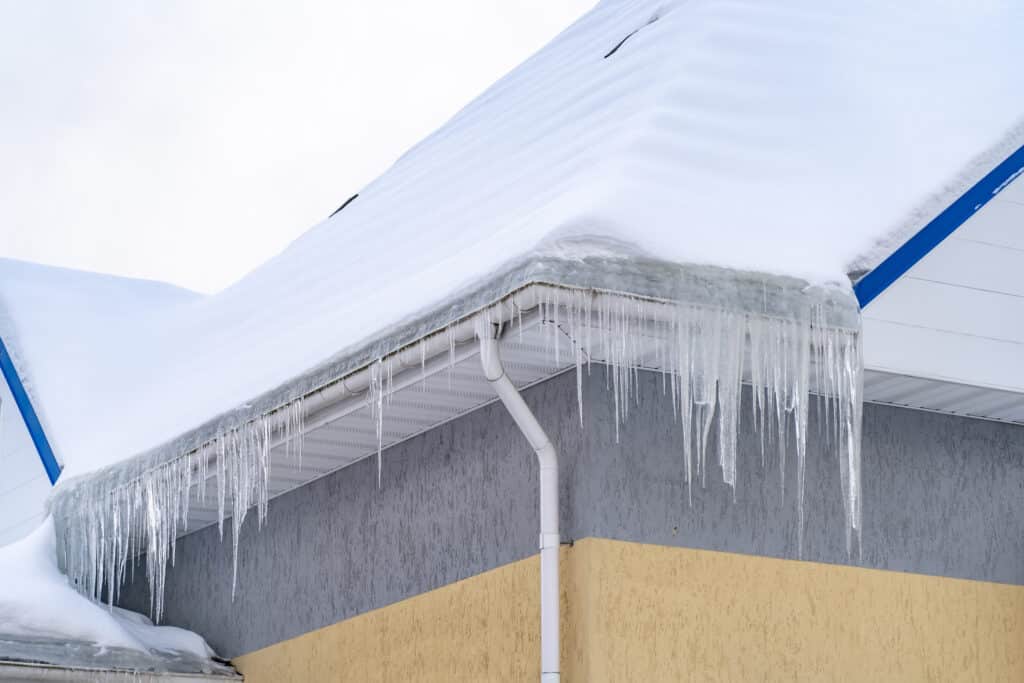 The Benefits of an Ice and Water Shield
The advantages of an ice and water shield, beyond how it prevents leaks, are plentiful. They include:
The membrane can counter the effects of ice dams. It can't prevent them — other factors cause ice dams — but it can seal the lower edges of your roof so that if water is backing up behind a dam, the moisture isn't entering the house.
An ice and water shield is heat-resistant; it won't dry up and crack under the hot sun.
The underlayment adheres immediately; your contractor won't be waiting for it to set.
An ice and water shield is relatively inexpensive, especially considering the protection it offers your roof and the value added to your home.
The only drawback of an ice and water shield is that bubbles and wrinkles cannot be allowed to form when it's being applied. That might be a challenge if you go the DIY route, but for expert contractors, it won't be an issue. When hiring a contractor, ask about adding this powerful component to your new roof. Your home will be better protected for the effort.
Has weather over the years damaged your roof? Get in touch with our experts at BRAX Roofing for a quote on an ice and water shield for your DMV-area roof!
Contact Us for a Free Estimate
What to Expect When
You Choose Our Team
We're Committed to You
Every Step of the Way
Meet to discuss your project and free estimate.
Select materials and colors for the look you want.
Arrange payment through financing or your insurance.
Install new roofing, siding, or gutters for amazing results.
Ensure you're 100% satisfied with our services.